Happy holidays to everyone from us here at Black Cover. It's been a long time since the last post, largely due to a shortage of quality notebooks worth reviewing. A few great suggestions have come in recently, and hopefully I'll get to them after the holiday season some time.
However, I wanted to share an email I got from the Mazzuoli company in Italy, the manufacturers of the Stifflexible line of notebooks I continually rave about. Over the past several months, there have been rumors that their line was going back into production. Today, I can not only confirm those rumors are true, I can provide you with pictures of the new notebooks!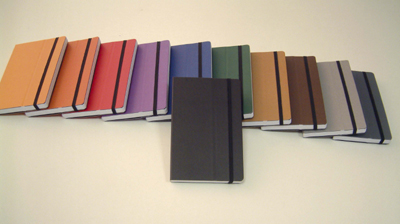 There are a few major changes, the most noticeable being the new cover material. Unlike the old Stifflexibles, which had an oilskin cover similar to the Moleskine, this has…something new. Exactly what, I'm not sure – take a look up close (note: this is the back of the notebook; there are no words on the front):
My hope is that it's something as durable as the oilskin/faux-leather we're used to. It looks like cardboard in the pictures, but keep in mind that this cover is not soft; it's rigid, with the two creases in it that allow it to bend. Fingers crossed on this one. As you may also note, the page edges are no longer colored, which I always thought gave it a distinctly European look to it.
I have to point out something quite flattering; they've named the black notebook in this line the "blackcover," in dedication to this website and all the notebook fans that have written to them recently and helped move this back into production. Check it out:
Very cool. However, I said in many reviews that thing you had to change with this notebook was absolutely nothing, and it's clear that several things have been changed. Hopefully, the basic value of the Stifflexible is still in tact. I will give you my full review as soon as I receive a copy. I'm very excited to check it out.
And not to worry – even though they've got a notebook named after our website, I will give it a fair and honest review.