Hey everyone!
Contrary to popular belief, we're still alive. The past couple months have been pretty crazy – for various reasons, I've been on trips to Spain, Italy, Chicago, New Mexico, and Cape Cod, and the only disappointing thing about seeing the world is that I didn't find a single new black notebook. I figured that, at the very least, stationery shops in Spain and Italy would be bound to have something I hadn't heard of…But, other than the Green Apple Moleskine-copies (which we have yet to review – someone send us one!), there was nothing.
Luckily, thanks to you readers, we have a number of new black notebooks headed our way. Keep an eye out over the next few weeks as the reviews are posted. And please keep sending your recommendations! It's gotten to the point we're we've covered all the big ones – it's the obscure and hard to find that we need you for.
Today, we're going to do something that I've been meaning to for quite a while: a look back on a few of the notebooks we've previously reviewed and how they've held up. We're covering three in this installment, starting with…
The Stifflexible
You will be happy to know that the New Stifflexible is FINALLY AVAILABLE STATESIDE (woo!) at the Bloomfield Pen Shop in Boston.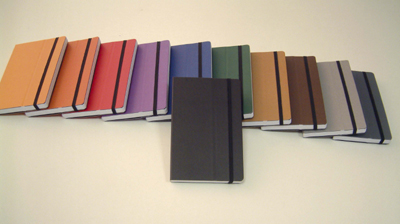 You can buy them online for $16.95 each, which is a bit pricey, but I know of no other place to get them in the US. Definitely recommended for those who'd like to try a hard cover that also bends. Two caveats: the pages are no longer colored, and more importantly, the cover material is not as cool as the original faux-leather Moleskine-type. It's now a waxy hardcover.
I was happy to see the Stifflexibles being sold in several bookstores across Italy. I was also happy to find a package waiting for me when I got back home from the Mazzuoli company. They sent me a number of Stifflexibles based on the work of artist Giuliano Ghelli – not black covers, but check 'em out:
They have a number of other variants coming out soon as well. I continue to urge them to return to a simple black leather cover so I can go nuts over it, beg you all to buy one, and end everyone's perfect notebook searching for good…but maybe some things just cannot be.
For more information on everything Stifflexible, check out Mazzuoli at their website here. They have all the variant designs up for your viewing pleasure. In my personal use, the Stifflexibles continue to hold up very well to wear and tear.
The Miquelrius
Generally speaking, I'm not the biggest fan of the Miquelrius soft cover – it's not that there's anything terrible about it, it's just that…well, it's too flexible, if that makes any sense.
There's something almost cloth-like to it, which might be a plus for some of you. But a good softcover should have some rigidity for structure's sake.
HOWEVER. I have to say this notebook took a fierce beating over the past year as my back pocket work notebook, and it blew me away how well it took the abuse. Toward the end of its life, the spine started splitting, but I honestly was amazed it didn't happen earlier. This thing is EXTREMELY well-made, and I highly recommend it in terms of quality.
I was excited to post pictures of my completely filled Miquelrius in perfect shape to prove this when … the rain came.
That's right, it deluged on location at work, and I had no way to save it. Hence, the fat, water-logged lump of pulp it has become. But don't let the pictures fool you. This is an excellent notebook, and I fully recommend it to anyone looking for a flexible softcover with a LOT of sturdiness to it. Full review with buying links here.
The Ciak
I love this journal. I absolutely love it. I really wasn't looking forward to reviewing it when I bought it – too stocky, weird horizontal elastic, a bit bulky…Man, was I wrong. This notebook was in my bag throughout my travels in Spain and Italy, and not only did it survive my beatings admirably, it was continually a pleasure to write in.
In both Spain and Italy, I found a number of journal shops offering homemade, unique notebooks. Here's a shop window in Barcelona:
Another in Sevilla, Spain:
And a very famous one, the Legatoria Rivoaltus, on the Ponte Rialto in Venice, which has been in business for 30 years:
The problem is that their "homemade" journals just never lived up to my expectations. The hard cover, Bible-like ones are always great for those who want to write, I dunno, books of spells or something. But the smaller ones that I'd be interested in are literally just sheaves of paper glued into unimpressive pieces of leather. The "uniqueness" of these products is all they have going for them, and it's really not enough. Most people go in these shops, look around disappointed for a few minutes, then leave without buying anything.
I honestly think the notebook they're hoping to find is the Ciak. Small and compact, yet durable, it has the type of attention that makes it feel handmade (which it is, allegedly).
I'm the worst daily journal keeper in the world, and the Ciak kept drawing me back. Highly recommended if you can find a vendor in the US. Best bet is probably from an independent seller on Amazon or searching on Ebay. Just make to avoid the horrible colored page versions sold at Borders! They're also available at UK's The Journal Shop, where every notebook is offered at a 3 for 2 deal here (9.99 pounds). Meaning, that for 20 pounds, you get three notebooks. Not sure how the shipping works out, but it's not that much.
As for the others…
Still looking forward to using the Alwych Notebook. My softcover Moleskine is currently being used as a recipe book, which means its constantly being subjected to foreign substances and high temperatures that it probably doesn't like. Stay tuned for how it holds up. The new Cartesio is being used on a current project I'm working on and seems to be holding up admirably.
More notebook reviews coming soon!